E-EYE
ESW, the leading manufacturer of Dry Eye Management devices, have developed the E-Eye; a highly advanced and patented technology based on Intense Regulated Pulsed Light, for the treatment of dry eye disease.
The exponential increase in Dry Eye syndrome patients, that has been caused by multiple underlying causes, have caused a surge in the need for treating the cause of the disease. Traditional treatment was only based on managing the patient's symptoms, and was not focusing on treating the underlying cause. The main culprit behind evaporative dry eyes the is insufficiency of the lipid layer. The eye activates the Meibomian glands by increasing the activity of the nerves responsible for the activity of the glands themselves. Contrary to belief, the traditional treatments do not eliminate the unstable tear film, inflammatory reaction of the conjunctiva, burning eye sensation, paradoxal increase in tears, inability to wear contact lenses, infections, and in advanced cases formation of micro-ulcerations of the epithelium cornea.
E-eye produces perfectly calibrated and homogenously sequenced light pulses that stimulate the parasympathetic nerves, and consecutively will activate the Meibomian glands for up to 3 years after completion of the 3 sessions, according to published data. The patient will follow a three-session protocol each lasting 10 minutes. A series of 5 flashes is applied under each eye, from the inner canthus to the temporal area, activating the parasympathetic nerves, leading to the stimulation of the Meibomian glands returning the latter to their normal function within a couple hours after the procedure.
E-eye is also highly easy to use and efficient: it starts in a few seconds, doesn't need any pre-heating, is compact thus will fit in any practice space and is controlled from an LCD touch screen using a simple software.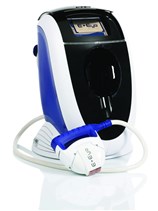 TEARCHECK
A revolution is born.
Designed to create a new standard for dry eye analysis with 2 completely new patented examinations (TFSE® & OSIE®).
tearcheck provides the following exams:
OSIE® – Ocular Surface Inflammatory Evaluation
TFSE® – Tear Film Stability Evaluation
NIBUT – Non-Invasive Breakup Time
EYE REDNESS
MEIBOGRAPHY IR
DEMODEX
OSDI questionnaire
ABORTIVE BLINKING (not yet accessible)
Unique usability
Touchscreen display
Fully automatic
Wireless use
Wireless data transfer & print
Brand new technology
2 high-resolution cameras inside providing top sharp and high-resolution images and videos to allow fast and clear examinations.
Designed and developed – made in France.